Aéroports de Paris Management has the 25 percent shareholder in the Liege Airport has the minority blocking authority and was opposing the signature of the agreement between 'Alibaba' and Liege Airport. The French company was trying to save its one of the valuable clients in Paris, the FedEx Express which also uses Liege airport as their base.
Now according to latest reports, the difference of opinions have been settled down and Liege Airport apparently signed the deal with Alibaba for which there had been months-long negotiations going on. The decision to choose Liege Airport as the base for Alibaba's port was presented back on 31st May 2018. With this new agreement signing, Liege will be the logistics hub for Alibaba in Europe apart from Hong Kong, Dubai, Kuala Lampoor, and Moscow for other parts of the world.
Both, Alibaba Group Holding Ltd. and the Belgium government reached the agreement to promote the trade under Electronic World Trade Platform ("eWTP") initiative, which is developed by the CEO of Alibaba; Jack Ma.
Following VIPs were present at the signing ceremony.
Charles Michel, Prime Minister of Belgium
Kris Peeters, Vice Premier of Belgium
Cao Zhongmin, Ambassador of the People's Republic of China in Belgium
Ms. Angel Zhao, Senior Vice President of the Alibaba Group
Me Pierre-Yves Jeholet, Minister of Economy of Wallonia
Luc Partoune, CEO Liege Airport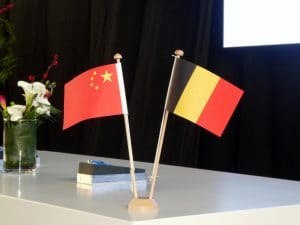 Before this agreement, Liege Airport is already one of the top 10 cargo airports in Europe but now will be amongst Top 5.
Logistics subsidiary Cainiao of the Alibaba will now invest an amount of 75 million Euros in Liege to build 220,000 m² of hangars and the operations will start from early 2021.
Minister of Economy of Wallonia; Mr. Luc Partoune confirmed to media that, ASL Airlines Belgium would be one of the main cargo airlines which will transport goods of Alibaba from China to Liege and in the opposite direction as well. This will provide Belgian producers to also send in their products to the large Chinese markets easily. ASL Airlines Belgium is already operating its flight routes between China and Belgium.
Related Content
New President of Mexico on his first day as Head of State puts Mexican Air Force B787-8 Dreamliner
"Great Air Race" from Great Britain to Australia for centenary celebrations will start in 2019
U.S. F-15E Strike Eagle flying at low level over Norway during Arctic Fighter Meet 2016