Saab JAS 39 Gripen is a single seat, light single-engine multirole fighter aircraft that was the result of the ingenious work by the engineers of the Swedish Aerospace company known by the name of Saab.
Saab JAS 39 Gripen was designed in order to replace the Saab 35 Draken and 37 Viggen, the former fighter jets of the Swedish Air Force.
Saab JAS 39 Gripen's design has delta wing and a canard configuration which allows the aircraft to have stable design overall along with its fly-by-wire flight control system.
Saab JAS 39 Gripen can reach up to the speed of Mach 2 powered by its Volvo RM12 engine. The aircraft after completion was redesigned later to cope up with the NATO interoperability standards and also for air to air refueling.
This aircraft was the result of a fighter aircraft program started by the Swedish government back in 1979. The purpose of this program was to design a fighter jet cable of not only fighter jet prowess but also serve the roles of an attack and reconnaissance aircraft.
This new design gave birth to the Saab JAS 39 Gripen which took its first flight back in 1988. The aircraft did suffer from two crashes during its flight development and alterations to its flight control software.
The aircraft was able to officially enter the Swedish Air Force back in 1996. There had been many upgraded variants of this aircraft since then which featured better avionics and adaptations for increased mission times. Saab JAS 39 Gripen was the main mission force of the Swedish Air Force by 2003.
Since 2014, a more advanced and enhanced version of the Saab JAS 39 Gripen under the designation Gripen JAS 39E/F is under development since 2014.
For our readers today, we have gathered a bunch of amazing facts about this state of the art fighter jet. To have a read of the amazing facts about the Saab JAS 39 Gripen, scroll down below.
Design and First Flight:-
Saab JAS 39 Gripen was the end result of a project started by the Swedish Government back in 1979 to build an aircraft with a superior fighter, attack, and reconnaissance capabilities. It was also intended to replace the older generations of Swedish Air Force's fighter jets like Saab 35 Draken and 37 Viggen.
The contract for this new fighter jet went into the hands of a Swedish Aerospace company by the name Saab, who was the creators of the Saab 35 Draken as well. Saab selected a new design and by 1988 they rolled out this one of a kind fighter jet. The aircraft took its first flight back in 1988.
Accidents:-
During its designing, mostly in between the flight development and the changes made to its flight control system, the aircraft suffered two major crashes.
Entering the SAF:-
The aircraft after many test flights and alterations made to its overall control system entered into the Swedish Air Force service officially back in 1996.
Since then there had been many variants rolled out by Saab for this aircraft which feature better avionics and longer mission times for the aircraft. The aircraft entered into longer mission services for the SAF back in 2003 and since then has been serving its purpose.
Engine:-
Saab JAS 39 Gripen is a single engine powered fighter jet. The aircraft gets its power from a single Volvo RM12 afterburning Turbofan. This engine allows the Saab JAS 39 Gripen to produce a dry trust of about 12000 lb/ft or 54 knots and with afterburner to produce a thrust of about 18100 lb/ft or 80.5 knots.
Specifications:-
This aircraft weighs about 14000 kilograms at its takeoff point while measuring at a length of 14.1 meters. The aircraft's wingspan is about 84 meters.
There is also a two-seater variant of this fighter jet which has a total length of about 14.8 meters.
Speed, latitude ceiling and range:-
The aircraft is able to achieve a top speed of Mach 2.0 which roughly calculates to 1370 miles per hour or 2204 kmph and can rah the altitude ceiling of about 50000 feet or 15240 meters. The maximum flying range of this aircraft relying on its external tanks is about 1983 miles or 3200 kilometers.
Future Relevance:-
During one formal briefing of the Riksdag which is the legislative arm of the Swedish government, a Swedish Lieutenant Colonel named Lars Heimlich told he Riksdag back in 2011 that the current Saab JAS 39 Gripen would be outdated by 2020.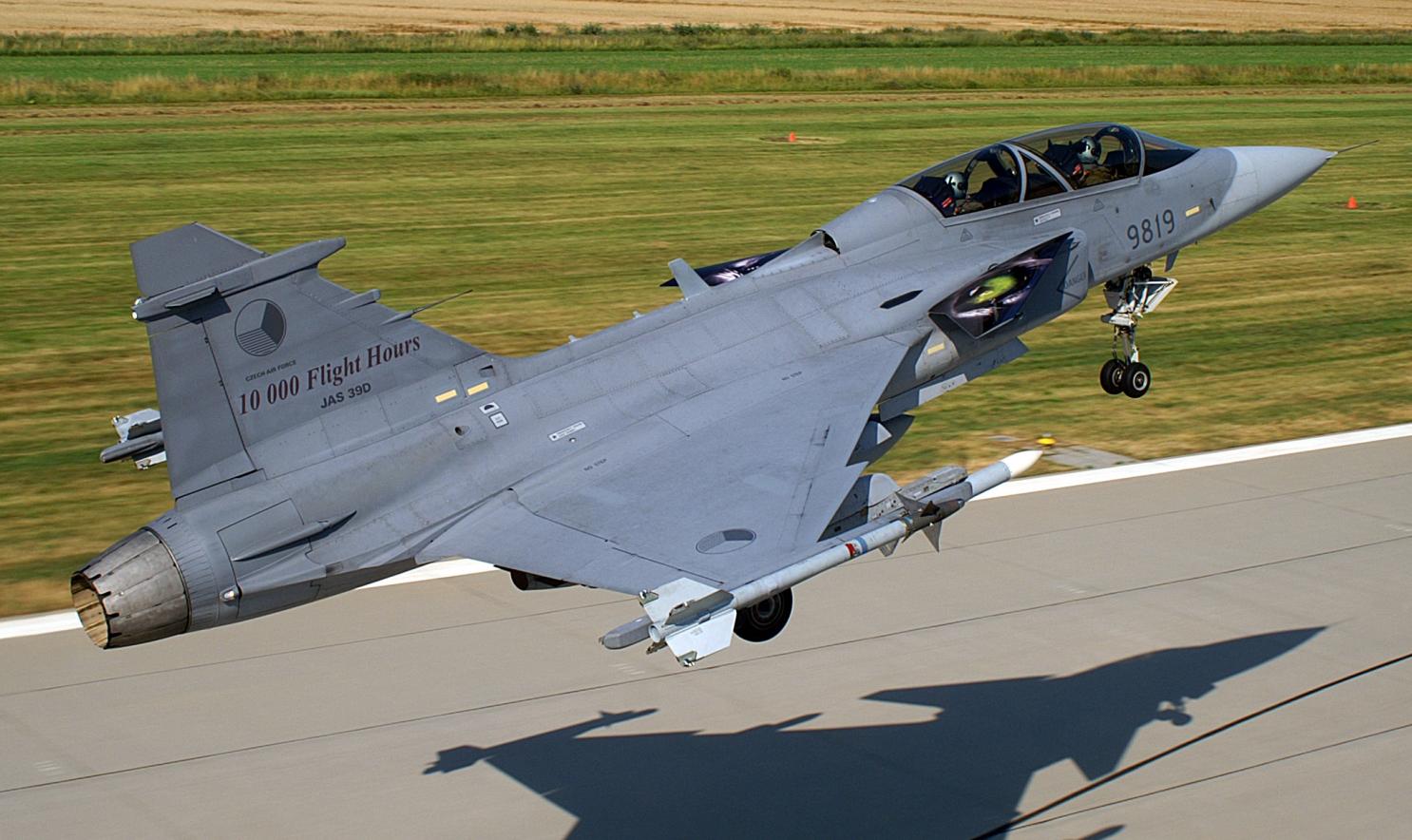 While if his future relevance report was right or not, Saab JAS 39 Gripen still remains to be one of the most demanded modern fighter jets in the world. The reason for its mass demand is because it comes way cheaper than the F-35 Lightening. Also unlike the F-35, it has a proven record of reliability during missions.
There are also reports of a newer better version of this aircraft under the name Gripen E is being released by 2020.
Performance:-
This aircraft is a product of outstanding Swedish engineering that comes at a low cost which is able to comfortably engage in the air-to-air engagements or even during the close air support.
The aircraft also features a net-centric approach in its communication system that allows it to seamlessly communicate with not only other Gripen aircraft but also with the other NATO allied aircraft flying nearby.
Cost:-
One thing that makes the Saab JAS 39 Gripen one of the most in-demand aircraft in the world is its terrifically low price when compared with other fighter jets.
The older model Gripen C came anywhere in between a price tag of about 30 to 60 million US Dollars which is a fourth generation fighter jet cable of matching with the F16C Fighting Falcon. Although the F-16C comes with a price tag of 18 million dollars, the flyaway cost of it varies up to 80 million dollars.
With Gripen's better flight range and its flyaway cost much less than F-16C, it is the most demanded aircraft by many European nations. The aircraft is also able to take off and land on an aircraft carrier which makes it a deniable fighter jet for the Indian and Brazilian Air Force.
Conclusion:-
Saab JAS 39 Gripen is one of the most demanded jet fighters in the word all because it comes with longer fight range and low flyaway cost. The aircraft is able to be on par with the capabilities of the USAF's F-35 Lightening and F-16C Fighting Falcon, two of the most nimble fighter jets in the world. All of these features make the Saab JAS 39 Gripen to remain in the skies of the 21st century and with its newer models coming by 2020; we can expect it to remain in the service of many Air Forces around the world for a long time.
Related Content
Amazing Facts about Chengdu J-20 Black Eagle; China's Supersonic Stealth Fighter Jet